Do you know Sumo?
Sumo is a Japanese national sport.
It is said that Sumo has been practicing more 1500 years.
In ancient time, Sumo matches were annually held as rituals to pray for a good harvest.
This lasted over 300 years as an event of the Imperil court.
Later, in Samurai period, sumo became a training of Samurai's battles.
In the Edo period (appox.400 years ago), masterless samurai and wrestlers organized groups to practice professionally. Sumo matches were regularly held all over the country. And sumo became very popular among common people at that time. Today, it is known as "Grand Sumo." People come to watch the competition and enjoy it.sponsored link

The rules of Sumo is very simple. 
Sumo is fought in the ring called dohyo. The circle of dohyo is about 4.5 meters across.
To win, a sumo wrestler forces the opponent out of the ring or, makes him touch the ground.
Sumo wrestlers are called rikishi in Japanese. There are 10 ranks. The five highest ranks are called Makunouchi, top division. The ranking change depending on the rikishis' performance during the previous tournament.
Six grand tournaments take place each year, the New Year's tournament in January in Tokyo, the Spring tournament in March in Osaka,the Summer tournament in May in Tokyo, the Nagoya tournament in July, the Autumn tournament in September in Tokyo, and the final one of the year--the Kyushu tournament in Fukuoka in November.
Grand Tournament Schedule - Nihon Sumo Kyokai Official Grand Sumo Home Page
Furthermore, they have the tours of the country. 
In October 15, they'll have the tour in Kyoto.
2017 Autumn Tour Schedule:
Tour Schedule - Nihon Sumo Kyokai Official Grand Sumo Home Page

I went to see the tournament in Kyoto last year. It was so excited and I will go there this year, too.
If you are interested in Sumo, I highly recommend you to see it.
You can buy ticket below;
How to Buy - Nihon Sumo Kyokai Official Grand Sumo Home Page
 Sumo tour in Kyoto,2017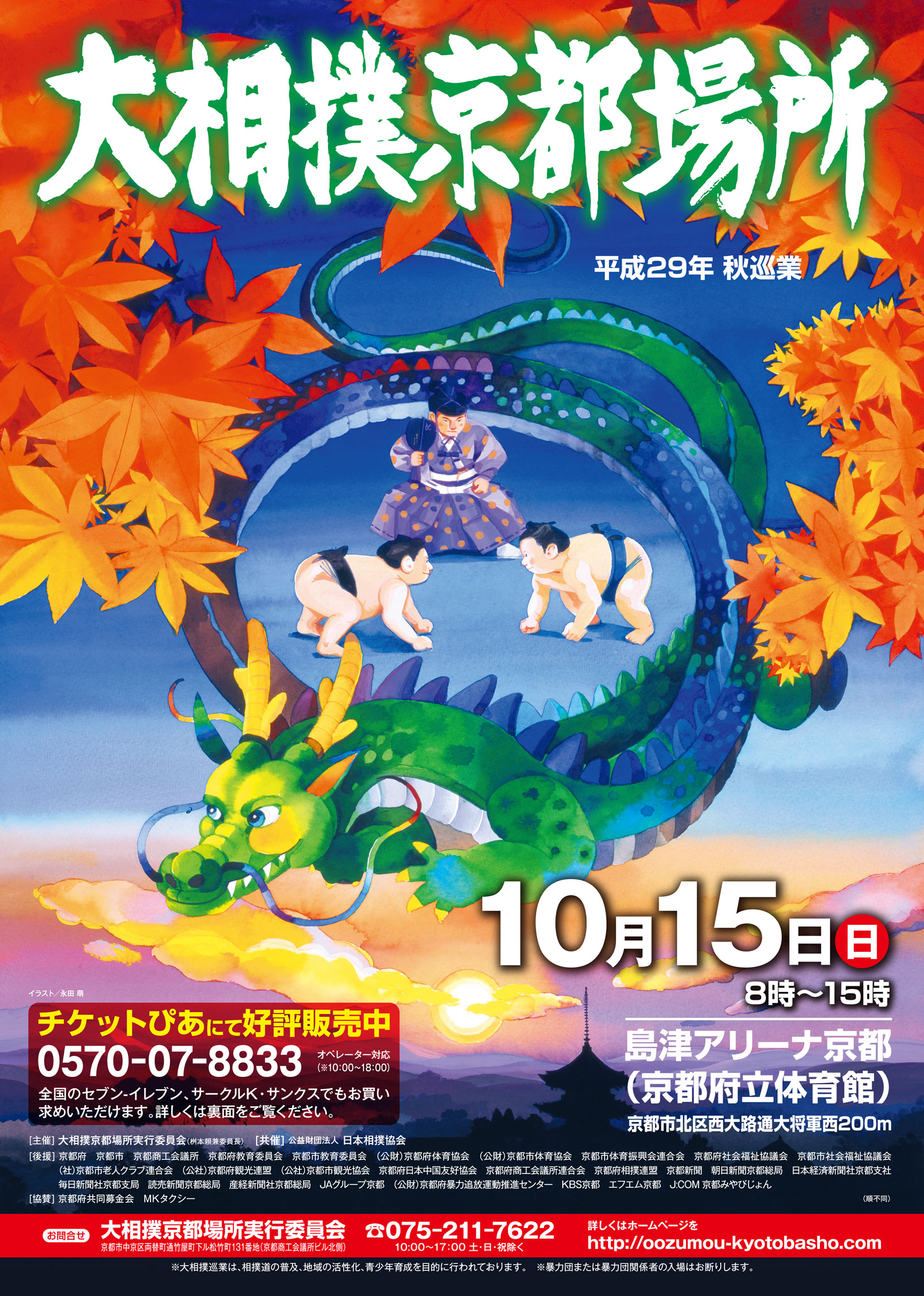 【Tokyo Sightseeing#10】Let's watch the "O-zumo" Grand Sumo Tournament at Ryogoku Kokugikan!